Boat Accidents
Legal Guidance for Miami Residents Injured on the Water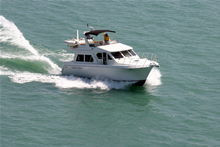 Florida is known for its waterways. For people who enjoy the beautiful beaches and the Intracoastal area, boats are a popular form of recreation. However, accidents on the water are unfortunately also common in Florida. The Miami boat accident attorneys at the Law Offices of Robert Dixon have years of experience helping people hurt in boat crashes near Miami receive fair compensation. Compassionately assisting victims in Miami-Dade, Broward, and Palm Beach Counties, we diligently help our clients navigate the legal process and aggressively pursue those who are responsible for harming them.
Common Causes of Florida Boat Accidents
Almost 900,000 recreational boats were registered in Florida in 2013, the highest number of any state in the nation. Unfortunately, Florida is also the state with the most boat accidents. In 2013, 736 collisions were recorded, with 420 injuries and 62 fatalities. Boat operators, occupants, and swimmers were all among the individuals hurt or killed as a result of these accidents.
According to the U.S. Coast Guard, alcohol use is the leading contributing factor in fatal watercraft crashes. Some of the other typical causes include inattentive and inexperienced operators, failure of machinery, speeding vessels, and improper lookouts.
Seek Compensation After a Watercraft Collision
If you've been injured in a boat accident, you may file a personal injury lawsuit against any responsible parties. Depending on the situation, the boat's operator, owner, or manufacturer could have been at fault. If a technical issue involving flaws in the boat's components caused the accident, you may have a products liability claim against the company that made them. A manufacturer is strictly liable for any injuries that result from a defect in the manufacturing or design of a product that poses an unreasonable risk to its users.
In many boat crashes, it is the operator of the vessel who caused the accident. This person may be held liable in a negligence lawsuit if he or she acted carelessly. To show negligence, an injured person must prove:
The defendant owed a duty of care to behave as a reasonable and prudent person would behave in similar circumstances;
The duty was breached, such as if the boat's operator was distracted or speeding through a crowded area;
That breach was the cause of the injuries; and
The victim suffered actual damages as a result.
If a boat's operator was under the influence of alcohol, a claim could be based on the legal theory of negligence per se. Under this theory, a person is negligent if he or she has violated a statute that is designed to protect a specific group of people from a certain type of harm. Since Florida makes it illegal to drive a vessel under the influence, an impaired boat operator who causes an accident might be found negligent per se. The victim must still show that the violation of the statute caused his or her injuries and that he or she incurred damages.
If you succeed in this type of claim, you may be able to recover damages. Compensation can be available for past and future medical expenses, loss of income, and pain and suffering, among other types of harm. In the devastating event that a loved one of yours has died in a boating accident, you may be able to file a wrongful death lawsuit to recover damages such as medical expenses, burial costs, and your loss of companionship or support. Timing is important for these claims. The statute of limitations for a personal injury lawsuit is four years, and a wrongful death action must be filed within two years from the loss of your relative.
Miami Attorneys Protecting Your Rights After an Accident
If you or a loved one has been harmed in a watercraft collision, the Miami boat accident lawyers at the Law Offices of Robert Dixon can help pursue your claim for compensation against those responsible. We offer knowledgeable and seasoned representation, and we are dedicated to facilitating your recovery process. Contact us to discuss the details of your situation if you were hurt in a boat accident. Please call 877.499.4878 or contact us to set up a free initial consultation.