Car Accidents
Miami Car Accident Lawyers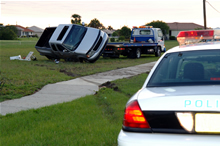 According to the Florida Department of Highway Safety and Motor Vehicles, 281,321 people were involved in car crashes in Florida in 2012. Approximately 200,000 people were injured or killed as a result of those accidents. Car crashes can be devastating events, leading to extensive injuries as well as expenses. The Fort Lauderdale car accident attorneys at The Law Offices of Robert Dixon have the experience to help you seek compensation for injuries sustained in a car crash. Our attorneys serve clients in Miami-Dade, Broward, and Palm Beach Counties, as well as elsewhere in Florida, who have been injured or lost a loved one in an auto accident. Please contact our office today for a free consultation about your case.
Common Causes of Car Crashes
The densely populated nature of South Florida's cities can lead to many problems and hazards on the roads. Whether your injuries were due to a rear-end collision, hit-and-run, or a bus or truck accident, negligent conduct is often involved.
All drivers owe other road users a duty of care to drive as an ordinary and prudent driver would drive in similar circumstances. To obtain compensation, a victim of a car crash must show that the defendant breached this duty to exercise reasonable care, and the victim was harmed as a result. In an example relevant for Florida, an ordinary and prudent driver is expected to reduce speed in heavy rain. Therefore, if someone drives well above the speed limit during a thunderstorm, the driver could be liable for any injuries caused by that unreasonable speed.
Common causes of car crashes and possible signs of negligence include:
Phone use and texting while driving
Drivers under the influence of alcohol or other substances (DUI/DWI)
Driver fatigue
Faulty traffic lights or obstructed signs
Backing up without due care
Overloaded trucks or trailers
Bad weather and visibility issues
Tire problems and other automotive malfunctions
Compensation and Damages
If you've been injured in a car crash as a result of another driver's negligence, insurance companies will not always cover your medical bills and other expenses. Insurance companies' attorneys have their own agenda to minimize settlement claims, sometimes to a victim's detriment. Consulting a knowledgeable lawyer to help you deal with all the parties involved is important in making sure your rights and financial well-being are protected.
Although compensation varies for each case, the most common damages awarded for a victim of a car crash include past and future medical expenses, pain and suffering, loss of wages and earnings, loss of consortium, and property damage. There are many factors in determining exactly what compensation you or a loved one might be entitled to receive for your injuries. Such considerations include the extent of your injuries, who is at fault for the accident, and the insurance companies and type of coverage involved.
Legal Help For South Florida Car Accident Victims
Unfortunately, car crashes are part of many of our lives, and the injuries that accompany them can be substantial. But they shouldn't have to cost you your financial security. The Miami auto accidents at The Law Offices of Robert Dixon have the skill and knowledge to help you pursue the compensation to which you may be entitled. Please call 877.499.4878 or contact us online for a free, no-obligation consultation, even if you are uncertain as to whether you have a claim.