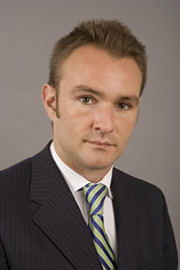 Robert Dixon
Attorney
Robert Dixon is a native of England and moved to Florida in order to pursue his goal of becoming a personal injury attorney. Mr. Dixon received his Bachelor of Arts degree in Political Science from the University of Florida and earned his Juris Doctorate from the University of Florida Levin College of Law.
Following law school, Mr. Dixon moved to South Florida where he practiced Personal Injury law in both North Palm Beach and Stuart. After working on hundreds of cases as an associate attorney, Mr. Dixon formed The Law Offices of Robert Dixon to better serve the injured. Robert Dixon is a staunch advocate for the injured and offers his clients the accessibility and availability not usually offered at other firms.
Mr. Dixon is admitted to practice law in all state courts in the State of Florida and is also admitted to practice in the US District Court in the Southern District of Florida. Personal injury attorney, Robert Dixon is also a member of the American Bar Association, the Palm Beach County Trial Lawyers Association and the Broward County Trial Lawyers Association.
Mr. Dixon actively volunteers his services to help the community. He has worked to assist a local police department develop an after school program for children in underprivileged neighborhoods, volunteers as a Big Brother in Big Brothers Big Sisters, and has helped indigent women involved in abusive relationships with their legal needs.
Robert Dixon understands that those who have been injured can experience life-changing physical trauma as well as emotional and financial hardships. Unfortunately, many people are injured not through any fault of their own, but by the negligence of others. Under the law, those injured due to another's negligence are owed compensation for the effects of the accident. This can include compensation for medical bills, pain and suffering, and lost wages. Florida accident attorney Robert Dixon works to achieve justice for all his clients and give your case the personal attention it deserves.
If you have been injured, contact our office today to schedule a free consultation. No Fees or Costs Without Recovery!
Contact us for a free, no-obligation consultation even if you are not sure if you have a case. Or, complete our quick contact form for us to evaluate your case and contact you.