Wrongful Death
Wrongful Death Lawyers Based in Miami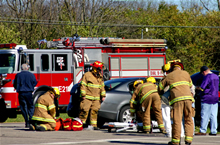 The sudden death of a family member is a devastating experience, made even worse if the death was caused by another's gross negligence or misconduct. The emotional and financial impact on the surviving family can often be overwhelming. The Miami wrongful death attorneys at the Law Offices of Robert Dixon can help you through the process of your wrongful death claim. Our attorneys, serving clients in Dade, Broward, and Palm Beach Counties, as well as across Florida, work tirelessly to make sure those affected by such a loss are able to pursue action against the responsible parties. Please contact our office today for a free consultation about your case.
How Do I Know if My Loss Is a Wrongful Death?
A person who loses their life due to the misconduct or gross negligence of another is a victim of a wrongful death. Many factors could give rise to such a claim, such as dangerous or defective automobiles, motorcycle accidents, medical malpractice, and job site accidents. Survivors in these situations may file suit against the at-fault or negligent party for their injuries, but if the victim dies, the right to recover damages lies with certain family members under Florida law. Family members of the deceased may file a wrongful death claim in order to hold those responsible for the victim's death liable.
What is Needed to Succeed in a Wrongful Death Claim?
If you have lost a loved one due to someone else's negligence or wrongful act, you and other surviving family members may be entitled to recover damages through a wrongful death claim. Before damages can be recovered, the defendant's liability must be established, usually shown by proving the defendant acted negligently.
To prove negligence, it must be proven that:
The defendant had a legal duty to the victim to exercise reasonable care;
The defendant breached that duty;
The defendant's breach was a proximate cause of the victim's death; and
The plaintiff sustained damages as a result.
For instance, if your loved one was killed in a boating accident where the captain was under the influence of alcohol, you must show the captain breached his or her duty to passengers, causing your loved one's death. It is important to keep in mind any potential legal claims, even during such a difficult time, must be asserted promptly, as the statute of limitations for Florida wrongful death actions is two years. Be sure to speak with an experienced wrongful death attorney to ensure the parties responsible for your relative's death are held liable. Consulting a personal injury attorney is also important to protect any rights you have against insurance companies involved.
Who Can File a Wrongful Death Claim and What Damages are Recoverable?
Under Florida's Wrongful Death Act, children, spouses, parents, and other dependent relatives may file a wrongful death action. The type of damages available depends on the relationship you had with your deceased family member and whether or not a spouse or any children are also survivors.
Damages recoverable for a successful wrongful death claim may include medical expenses, burial costs, loss of future wages, and loss of companionship. Contacting a skilled wrongful death attorney after the loss of a family member can help you move in the right direction to deal with some of the financial and emotional suffering.
Seek Experienced Representation in Your Wrongful Death Claim
The Miami wrongful death lawyers at the Law Offices of Robert Dixon are here to help you through the legal aspects of losing a loved one due to a wrongful death. The team have the experience, passion, and compassion to assist you in pursuing a claim after such a tragedy. Contact us to schedule a free consultation regarding your wrongful death action. Please call 877.499.4878 or contact us online for a free, no obligation consultation, even if you are not sure if you have a case.