Slip and Falls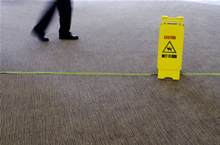 Property owners in Florida have a responsibility to provide for the safety of individuals who are on their premises. Often times an unsuspecting person can become a personal injury victim as a result of the negligence of a property owner. Property owners are required to provide well-lit walkways, prevent elevator accidents, clean up spills and put up warning signs regarding any potential hazards.
The failure of a property owner to meet the required standard of care can easily result in the occurrence of a slip and fall accident. Under Florida law, a property owner may be held liable for a slip and fall accident on their premises. If you or a loved one have been injured as a result of a slip and fall accident, you may be able to recover money from the property owner to compensate you for your medical bills, pain and suffering, lost wages and other costs arising from the slip and fall. A Florida personal injury lawyer can guide you through the process and fight to protect your rights against the insurance companies. Furthermore, a Florida slip and fall accident attorney can build your case against the property owner and help you to get monetary compensation for the injuries sustained as a result of a slip and fall accident on unsafe premises.
If you or a loved one has suffered serious injuries from a slip and fall on someone else's property in Florida, you may have a premises liability claim. Please feel free to contact personal injury attorney to discuss your slip and fall case and to set up a free consultation.
If you have been injured, contact our office today to schedule a free consultation. No Fees or Costs Without Recovery!
Contact us for a free, no-obligation consultation even if you are not sure if you have a case. Or, complete our quick contact form for us to evaluate your case and contact you.