Pedestrian Accidents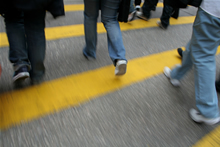 Florida is notorious for its outdoor activities and thus walkers, runners, and bicyclists are common on our roadways. Often times many cyclists and pedestrians become personal injury victims through no fault of their own. Bicycle or pedestrian accidents often result in serious injury to the bicyclist or jogger and little damage to the car or truck that struck them. Due to the degree of impact, bicyclists and pedestrians often suffer traumatic head injuries, spinal cord injuries and fractures.
If you are a pedestrian or bicyclist who has suffered injuries due to the actions of a negligent driver in Florida, it is important that you contact a personal injury lawyer immediately in order to protect your rights. Florida accident lawyer is experienced in fighting for the rights of bicyclists and pedestrians throughout the state of Florida and will conduct the necessary investigation to ensure all evidence is preserved to properly pursue your claim.
At the Law Offices of Robert Dixon we work with several different medical providers to ensure that our clients receive the best possible medical treatment for the injuries they have sustained. Personal injury attorney will work hard to get you or a loved one fair compensation for all injuries and losses resulting from the occurrence in question. Mr. Dixon will also fight to get you compensated for your past medical bills, future medical bills, lost wages, future loss of earning capacity, and past and future amounts for pain, mental suffering, and the loss of enjoyment of life.
If you were injured, or a loved one has suffered a wrongful death due to a negligent driver, Florida accident attorney is there to help. Contact The Law Offices of Robert Dixon to schedule a free consultation regarding your claim.
If you have been injured, contact our office today to schedule a free consultation. No Fees or Costs Without Recovery!
Contact us for a free, no-obligation consultation even if you are not sure if you have a case. Or, complete our quick contact form for us to evaluate your case and contact you.