Motorcycle Accidents
Legal Representation for Motorcycle Accident Victims in Miami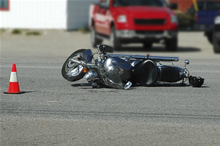 The Florida Department of Highway Safety and Motor Vehicles reports that 9,384 individuals were involved in Florida motorcycle crashes in 2012, and 425 motorcyclists were killed. The Miami motorcycle accident attorneys at The Law Offices of Robert Dixon have experience in helping clients receive compensation for injuries sustained due to the carelessness of other motorists. Serving individuals throughout South Florida, we are on hand to evaluate and help you with your case, whether you are a motorcyclist or passenger injured in such a crash.
Florida Motorcycle Accidents Can Cause Serious Injuries
Helmets are generally not required for motorcyclists in Florida. Not wearing a helmet can lead to traumatic head injuries and even death for someone involved in a motorcycle crash. A motorcycle's ability to navigate between lanes and smaller size compared to other vehicles leave it more vulnerable to distracted drivers or large trucks that may not be paying attention carefully. While the freedom of riding a motorcycle has its benefits, the detriments of being a motorcyclist involved in an accident can be equally as devastating.
Motorcyclists and their passengers thus may face more catastrophic injuries than those involved in crashes involving only automobiles. One inattentive driver can cause serious spinal or brain injuries to motorcyclists sharing the road. If you've been injured in a motorcycle crash, it is important to consult an experienced attorney in order to evaluate your rights to compensation for your injuries.
Negligence and Victims' Rights Following a Motorcycle Crash
Negligent driving is unfortunately a commonplace occurrence on Florida roads. Motorcyclists are often victims of drivers who perhaps forget to check their mirrors when changing lanes or who are preoccupied by their cellphones and fail to notice another vehicle on the road. Even a biker exercising extra care is more susceptible to accidents due to another driver's failure to properly share the road.
To be compensated for injuries from a crash, you often must prove that the other driver was negligent and therefore at fault for the crash. This means that you must show that the other driver breached his or her duty to exercise reasonable care, such as by violating a traffic law, and that the breach caused your injuries. You will not be able to get damages in situations when you would have been harmed even if the other driver had used reasonable care.
Sometimes the driver who caused the crash will argue that you should not get damages because your actions were negligent as well. However, this does not necessarily mean that your negligence claim will fail. Florida uses the rule of comparative negligence in evaluating damages for personal injury cases. This rule allows each person involved in a motorcycle accident to recover compensation according to his or her degree of fault. If your actions were 40 percent responsible for your injuries, you can still potentially recover 60 percent of the damages from the defendant. Even if you had greater responsibility for your injuries than the defendant did, you can recover an amount of compensation proportionate to the defendant's fault in causing your injuries. If the driver was especially negligent or reckless, you may be able to get punitive damages in addition to compensatory damages.
Damages for Motorcycle Accident Injuries
A motorcycle accident can quickly alter your life, and receiving financial support to adapt to those changes is an important step toward recovery. Damages available to a victim of a motorcycle crash include:
Past and Future Medical Expenses
Loss of Wages
Pain and Suffering
Loss of Consortium
Sometimes a tragic motorcycle accident can lead to fatalities. In the case of a loved one lost in a crash, family members may have a wrongful death claim. The statute of limitations in Florida for personal injury claims is four years, while a wrongful death suit must be filed within two years. Therefore, consulting a lawyer to help you sort through your case is vital to preserving your rights.
Experienced Injury Attorneys
Motorcyclists have a right to the roads as much as any other driver in Florida, and they should be compensated if that right has been infringed by another person's negligent use of the road. The Miami motorcycle accident lawyers at The Law Offices of Robert Dixon have the skill and experience to pursue your claims and help you receive compensation for your injuries. Please call 877.499.4878 or contact us online for a free, no-obligation consultation today.