Medical Malpractice
Legal Representation for Injured Residents of Miami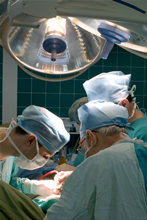 Patients trust their doctors with every aspect of their health. When a physician or another medical professional violates that trust, the results can be devastating. A doctor, nurse, or health care provider's negligence can lead to long-term injuries, and sometimes even a tragic death. The medical malpractice attorneys at the Law Offices of Robert Dixon have the compassion and experience to make sure your rights are protected. Our Miami lawyers represent clients in Broward, Miami-Dade, and Palm Beach Counties. We can help you pursue your claim and seek fair compensation for your injuries.
Medical Malpractice Can Cause Serious Harm
Medical malpractice is a type of professional negligence that occurs when someone's actions fall below the specific standard of care that applies in his or her profession. This conduct may include:
Administration of incorrect drugs, or incorrect dosages;
Failures to monitor, or act upon, changes in vital signs;
Surgical errors;
Injuries sustained during labor and delivery;
Incorrect, or delayed, diagnoses; and
Patient neglect.
The Journal of Patient Study has reported that preventable medical mistakes lead to between 210,000 and 440,000 premature deaths each year. Malpractice lawsuits can often be complex, involving many different parties and requiring expert testimony regarding what a doctor did and should have done. Thus, it is important to consult with a seasoned attorney who understands the nuances of these cases.
Hold Negligent Doctors and Health Care Providers Accountable
If you've been hurt as a result of an egregious mistake by a medical professional, you may be able to file a malpractice lawsuit against a doctor, a hospital, or another responsible party to pursue damages for your injuries. To succeed in this claim, a victim must prove that he or she had a doctor-patient relationship with the defendant.
It is also necessary to establish the typical elements of a negligence claim. These consist of duty, breach, causation, and damages. The duty of care that applies to a doctor is different from this duty in most contexts. Medical professionals must act in a manner consistent with the accepted standard within their community and area of expertise, given the specific circumstances. A breach occurs when a physician fails to meet this standard. Also, the doctor's breach must have been a proximate cause of the patient's injury, and the victim must have sustained actual damages as a result. The element of causation may be shown by extensive medical records or testimony from other health care professionals.
Hospitals may be vicariously liable for the gross negligence of a staff member. The victim must show that the individual who acted carelessly was an employee of the hospital and was acting within the scope of his or her employment at the time.
Damages available in a medical malpractice claim may extend to treatment costs, pain and suffering, lost wages, and loss of earning capacity. Timing is important when filing a lawsuit, since the statute of limitations for bringing an action is two years from the date of the injury or when it should have been discovered.
Consult Miami Attorneys Skilled in Medical Malpractice Claims
A doctor's visit or a hospital stay often means you're not in the best health. If a medical professional fails to provide proper treatment, you may suffer serious harm due to the aggravation of your already fragile state. If you've been injured by a physician's carelessness in Miami or the surrounding communities, the dedicated medical negligences at the Law Offices of Robert Dixon can maximize your chances of receiving the compensation you deserve. Please call 877.499.4878 or contact us online to schedule a free, no-obligation consultation regarding your case.